Start Marketing comes next week!
Over 70+ chapters designed to equip you with marketing smarts, skills, and moves that focus your efforts to grow your business or new venture.
Reader,
I jumped on the digital marketing wagon very early.
I've been perennially p*ssed off that there's not an easy way for people to learn this stuff.
You can Google and ask and waste A LOT of time doing things that will never work and don't matter.
But how are you to know?
You don't know what you don't know and there's literally competing multi-billion dollar companies shouting at you that their way of doing marketing is the BEST way.
It's enough to turn anyone off.
Yet the need to know any of this stuff is increasing at a rapid rate.
You're damned if you start, and damned if you avoid it.
This book is a humble attempt to change that.
It comes from the perspective of learning as you go and supporting you while the frustrations inevitably come.
It gives you shortcuts to understanding things without telling you ONE way to do something.
It's distilled almost two decades of experience into punchy actionable book designed to get you moving as fast as possible with a bias for taking action.
As someone who has patiently signed-up in advance, you're getting access first, and the book will be free for the month of April.
My only ask is if you enjoyed the book - leave a review in Gumroad afterwards (you'll get an email prompt as well).
And if you think there's ways it could have been better - please feel free say that in a review too - I want this to be warts and all and it's the only way I get better to do more of this kind of thing (oh - there's a BIG list).
Here's a chapter preview that I'm popping into some channels soon.
​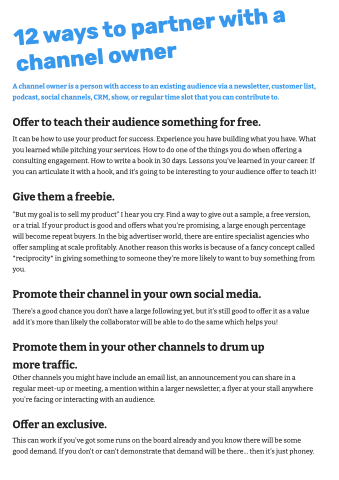 ​
Keep an eye out for the launch email next Monday, 17th April 2023.
​
- Marshy
​
*heads-up - my lovely partner is due with our twins very soon, so let's hope the boys don't come early! 🙏🏻